We believe in spending sufficient time with patients to understand their ailments and concerns. This is our way of establishing an honest rapport with them and helps in facilitating an effective treatment leading to a cure.
At CIM, patient history and other parameters are carefully analysed to arrive at a customized form of treatment that guarantees results.
Monday – Saturday: 8AM to 12Noon & 4PM to 8PM Closed on Sundays and other Public Holidays
Testimonials
"My experience with nature cure clinic has been a great one. I went to Dr Bapuji and Dr Aditya with knee problem and thyroid. They spent quality time with me to know and understand my situation which is the best part of their service. With their treatment I have gotten rid of my thyroid and knee pain. I have been free of my thyroid problem for a year now. Their experience along with their expertise is what makes them stand apart from every other health care I have ever received. Completely reliable and extraordinary warmth are the words that describe them."

- Alice Jessuraj

, Analyst - Deloitte, Hyderabad

"My experience with the clinic was really good. I received a personalized care and treatment from doctors and the staff who took their time to get to know about the patient and her problem. Everyone in the clinic is attentive to all the needs of the patient. Here, they balance their treatment strategies with careful monitoring on overall health of the patient. The massages are done by the same person throughout the treatment period. The rooms are basic, but comfortable and clean."

- Satya Sruti

"I consider myself very lucky for having been treated by Dr. Bapuji and Dr. Aditya. I can narrate in at least 10 pages of my experience about the doctors and the treatment, but in short, I would like to say that the approach towards the patient, the consultation, the treatment is really so genuine that you feel so comfortable and relaxed. Earlier doctors have suggested surgery for my cervical spine and today after being treated by Dr. Bapuji and Dr.Aditya, I have started living my normal life without any worries or depression.>>"

- Srinivas Rao

, Cambridge Telcecom
Health and Stress Management
A handbook of vital tips for maintenance of Health (2nd edition-revised)
"25 Minutes Yoga for You"- Dr B. Bapuji, Dr Rani Bapuji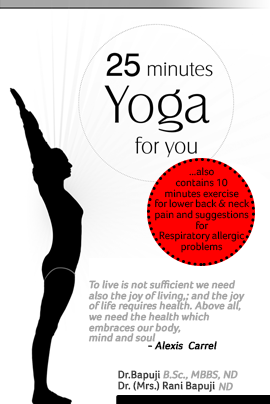 25 Minutes Yoga every day
There are hundreds of yogic postures (yogasanas) described in hathayoga, some are very difficult and some are frightening from layman's point of view. Hence, a simple 25 minutes yoga regimen has been designed which can be adopted by everyone between the ages of 10 to 60 years provided they don't have specific medical contraindication.
This regimen can be attempted at home. It may be borne in mind that though the postures in this regimen look very simple by way of technique, it takes atleast 8 to 12 weeks of constant effort to attain a reasonable perfection.
People who have specific problems of health where some of the exercises may be contraindicated should take clearance either from us or from their physician before taking up this regimen. Read more >>